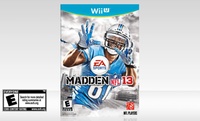 Wow if you got a Wii U at your house, this is a great deal! Get
Madden 13
for Wii U for just $8.99 (Reg $29.99). Free Returns.
More details at Groupon
*Links provided may be from affiliate programs which help support this blog. Thanks for clicking! For full disclosure policy click
HERE
. Want More?
Visit Little Rock Mommy on Facebook
!
Follow @littlerockmommy
Or Subscribe to My Daily News Feed
!