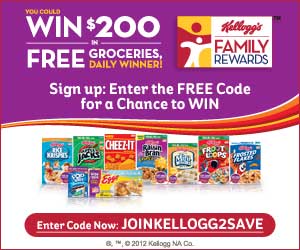 Have you signed up yet? Kellogg's has launched Kellogg's Family Rewards! This new rewards program will reward you for all of your Kellogg's purchases.
Click the banner to sign up and then you can enter codes, collect points, and earn awesome rewards and family fun! You'll also receive the latest and greatest benefits from Kellogg, like exclusive savings, great-tasting recipes, and special offers, promotions and of course Coupons!

*I signed up the other day! Super easy! Be sure to check all of your Kellogg's products for more codes.
*Please support this site by using the links provided. Thank You!!!! Want More?
Visit Little Rock Mommy on Facebook
!
Or Subscribe to My Daily News Feed
!